Description
 Your Data is in Excel. Why isn't Your Analysis?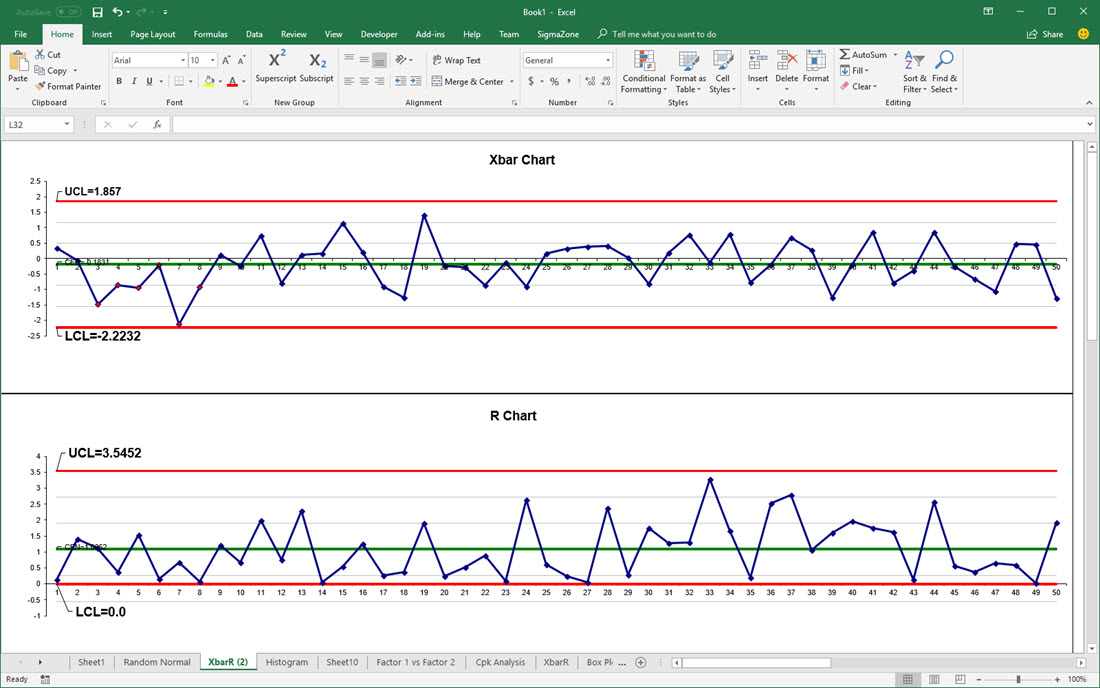 CONTROL CHARTS
XbarR, XbarS, Individuals, n, p, u, and np Charts. Update charts after they've been created. Identify outliers and have them displayed without affecting the control limiits.
ANALYSIS TOOLS AND DIAGRAMS
Histogram, Capability Analysis (Cpk), Scatter Plot (with regression fitting), Pareto, Dot Plot, Box Plots, Multiple Regression, Hypothesis Testing, Confidence Intervals, and Sample Size Calculations.
MORE TOOLS
Measurement System Analysis (Gage R&R) for both Quantitative and Binomial Data, Cause and Effect Diagram, Main Effects Plots, Cusum, Product Capability, FMEA, and Distribution Calculators.

Excel Integration
SPC XL integrates into Excel, streamlining your workflow and saving you time.
Microsoft Excel Integration
SPC XL integrates into Excel to speedup your data analysis workflow. Instead of copy and pasting your data into another application, with SPC XL you can store, analyze, and present your results within Excel.
Control Chart Features
Control Chart Wizard to help you pick and start the optimal chart
Update control charts without recreating them
Mark outliers which are still plotted but do not affect control limits
Cpk and Ppk analysis optionally created with Control Charts
Available Control Charts

XbarR Chart
Xbar S Chart
Individuals Moving Range Chart
n Chart
p Chart
np Chart
u Chart
Analysis Diagrams Features
Diagram Selection Wizard to help you pick the best diagram
Histogram with Normal Overlay
Capability Analysis Diagram (Cpk)
Scatter Plot with regression fitting
Pareto Chart
Summary Stats with Dot Plot
Box Plot
Analysis Tools Features
Multiple Regression
Hypothesis Test

Correlation Matrix (Pearson's Correlation Coefficient)
Hypothesis Tests
t-Test and Paired t-Test
F Test
Independence Test
Test of Proportions (Two Sample Proportions Test)
1 Way ANOVA

Confidence Interval
Sample Size Calculation
Measurement System Analysis (Gage R&R) Features
MSA Template to aid in data entry
ANOVA Analysis
XbarR Analysis
Attribute Analysis
Quality Tools Features
Main Effects Plot
Unstack Columns
Run Chart
Cusum Chart
Product Capability Report
FMEA
Xbar +/- 3s Chart
Problem Identification Features
Display flow charting toolbar
Create PF/CE/CNX/SOP Template
Create PF/CE/CNX/SOP Diagram
Continuous Distribution Features
Ch-Squared
Exponential
F Distribution
Gamma
Lognormal
Normal
Standard Normal
Student's t
Uniform
Weibull
Inverse Chi-Squared
Inverse F Distribution
Inverse Normal
Inverse Standard Normal
Inverse Student's t
Discrete Distribution Calculators
Binomial
Critical Binomial
Hypergeometric
Poisson
Negative Binomial
Uniform